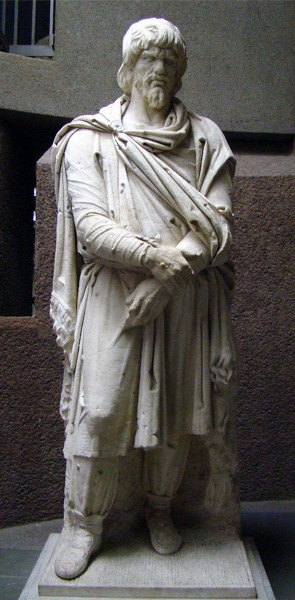 As it is known, the Romans represented in the sculptural art the peoples from the north of the Danube, among which, first of all, the Dacians, on the Column of Trajan (Rome), inaugurated in the Forum of Trajan on May 12th, 113 AD. The well known reliefs of the Column tells of the wars carried by the Romans against the Dacians in 101-102 and 105-106 AD. But representations of Dacians were made not only in bas-relief but also in ronde-bosse, statues of large proportions, exceeding the natural size, ranging from 2.17 m, 2.20 m, 2.25 m, 2.34 m , 2.39 m, 2.44 m, 2.60 m, 3.00 m, reaching up to impressive sizes of 3.15 to 3.24 m.
The statues that come mostly from Trajan's Forum are nowadays found in museums around the world and in private collections. These works of art are true lessons of sculpture and realistic representation of a character. The Roman artists have masterly rendered both the outside physical appearance and the psychical inside of each individual Dacian.
The great quality of the sculptures of the Trajan's period (98-117 AD.) features these statues of Dacians, which were made in the moment when the Roman "portrait" art was in its climax, when the human image was transposed into stone to a high artistic level. These iconographic studies have as their role to better place these representations of Dacians, made by the Romans artists during the reign of Trajan, to emphasize the importance of these sculptures and they to be studied in their true value.
Dr Leonard Velcescu